The Modular Starship has made a lot of progress in the last couple weeks or so as I've actually started casting parts again. I have 1 new module assembled and 9 laid out (as you can see in the image above). Three of the modules are missing parts, but they're busy drying when the picture was taken (Wednesday the 9th, sometime). The obliterators are in the modules due to having been in the way when I started planning the modules out
Below is a closeup of the two tiles in the upper left corner of the main picture. These two are special as the floor tiles I'm using on them include carpeting and I'm not sure what colour(s) should be used on them. The rest of the modules will be painted an almost metalic dark grey, so almost any colour should work.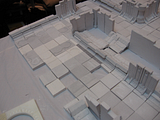 When this new set of tiles is glued together it'll bring my total up to 18 playable modules, halfway to a 3' x 3' table!